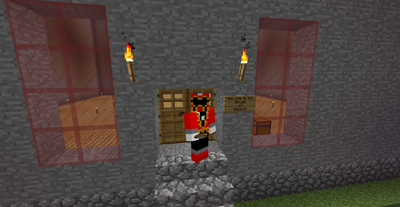 WRed51 (More known as WRed) is a member of the Minecraft Awesome Community. He has been a part of multiple communities such as The Edge, Capriccio, and was a founding member for The Hermitage, and Wichitaw. He joined the Minecraft community on March 12th, 2012.
During his time on the Minecraft Awesome Community WRed has been apart of many builds, and has had many titles. One of his first builds was his house in The Edge which became a historic landmark after members of the edge decided to build 2 houses exactly the same way but on top of WReds and Upside down. While he was a member of Edge WRed was also Head of Research and Development while ColonelMcMuffin was Mayor of Edge. WRed also took place in the first ever Court Case of Edge where he was the Defending Attorney in the case.
After leaving the Edge WRed participated in the Sky Build portraying Star Fox in Kawaiioddish's Super Smash Brawl build, After that WRed teamed up with other members of Minecraft Awesome who did not have a community to become The Hermitage where he helped them in the Olympics build. WRed helped build the Basketball Stadium. During the Olympics WRed placed gold in both the Rowing, and the Basketball. WRed has also participated in the Halloween build, The PAX Build, and was head of the MMPR Christmas Pageant build.   
When the Minecraft Community moved to World 3 WRed decided to join Capriccio. He is currently a member of the Engineering team and hopes to do more to help the community thrive.
Community content is available under
CC-BY-SA
unless otherwise noted.