volcanoknight11 is a member of the VGA Community, and a very proud member of TechGalaxy.
Life on the Server
Edit
His times on the server are funny and bad, one of the bad things that happens to him and the rest on the server was the Mad Puncher. Nobody knew who kept on punching others and to this day no one knows who is the Mad Puncher. One of the good things that happened to him and the rest of the server was the North Star that Acevil created.
His house
Edit
He lives in TechDown and his house is a model cake with a basement, a farm, and next to it is The Great Torch which is also built by him, and sponsored by Acevil and Segwo.
His jobs in TechDown are to look out for burglars, constructing when Tapasko and yo4you tells him to, giving tours, and fix creeper holes.
He's soon going to be part of New Equestria.
= Appearance
Edit
His skin is a derpy teen in a hoodie without the eyes apart from each other.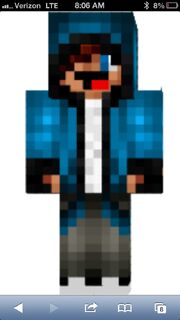 Community content is available under
CC-BY-SA
unless otherwise noted.