Still Random (Random) is an open community where anyone is permitted to build anything as long as they follow the server rules. As a result, Still Random accommodates many wacky builds that wouldn't be allowed in other communities (one of notable examples is the Golden Cock). A new user is welcomed and often they build their first home in this community.
Still Random was originally built on a medium-sized island, but its builds are now stretched over the sea. The founder, PdW2kX, is a well-known figure in the server and a couple of tributes to him are built at the site.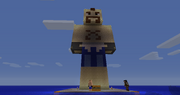 Community content is available under
CC-BY-SA
unless otherwise noted.