Spawn City

Spawn City. The spawn point is visible at the bottom right.

Status

Open

Founded by

Established

Nov. 27, 2011

Leaders

Location

Portal
Spawn City is a community built around the spawn point. The spawn point is a default place where a Minecraft user is placed (spawned) when the user logs into the server for the first time. When a user dies, he/she also goes back to the spawn point. The spawn point can be changed for each individual user by using a bed. However, when a bed is obstructed or destroyed, the spawn point is reset to the server default.
Spawn City was created during the Minecraft AWESOME Genesis episode, after Fraser and the VGA crew returned from Minecon and wanted to create a fresh new map for the Minecraft Awesome server. As is tradition, the mayor of Spawn City (as well as many cities not formally created by a single founder) is MrChrisMad. His office can be found near the portal.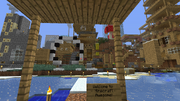 Spawn City is a place where most new users built their first home. Anyone can build a house in the city as long as it doesn't obstruct other builds. As a result, there are many builds that are half-completed or abandoned and scattered around the city. Some of the builds are not well lit and attracting mobs, making the city a somewhat dangerous place to stay at night. When a new user builds a house, proper light-up of the build is highly recommended.
Community content is available under
CC-BY-SA
unless otherwise noted.