Radyin is a user of the Minecraft Awesome community. He is one of the six founding members of The Edge .
This also means that his prime habitat is in The Edge , where he lives in the Sphere Tower, which he built himself. Besides this spheric goodness, Radyin has built The Lunch Bucket, the Edge Lighthouse, and created the design for the road system of the Edge.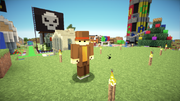 Besides the Edge, Radyin is also a member of Creeper Corners, as that was his originally community before The Edge.
You can usually recognize Radyin in his Professor Layton skin.
Radyin has worked on very impressive artistic recreations on Keroans Isle D'art. He has replicated The Great Wave of Kanagawa by Katsushika and A Bar at the Folies-Bergére by Edouard Manet on this island.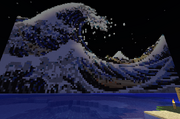 Along with Keroan as the build leader, he helped make Starry Night in Sky Build. Keroan herself is really grateful to Radyin, as she wrote "Major Big Ups to Radyin for basically fulfilling my vision and doing all the dirty work while I started my new job! I couldn't have done it with you". As can be seen here.
Radyin also helped Sailor_MoonXD with Aquatic Centre in the Minecraft Awesome Olympic Build, and was a vital member in creating a lot of the small touches to the build.
Radyin was at the Minecraft Awesome Olympics part of the all-star team that won gold in basketball, along with Keroan, Merme, Segwo and Kruxy.
Community content is available under
CC-BY-SA
unless otherwise noted.