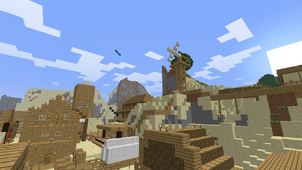 Old Rock

Status

Closed

Established

2011

Leaders

to be added

Location

to be added (Old World)

Portal

to be added (Old World Hub)

Theme

Western films
Old Rock was the very first Minecraft AWESOME build challenge in the Old World. It had a western theme and was made up of an Old West town with many inns and bars. Many in-jokes to western films were made. At the same time, mellisbaker had a recreation of Armadillo from Red Dead Redemption built separately from the main build area.
Telegraphist Office by Birdston
Wagon by Bonefoot
Town Bank by MrChrisMad
47drift's Steakhouse and Batcave by 47drift
Windmill by TheIronNerd
Ol' Bill's Ranch by Threeshades
Gunsmith by SirLoopyKid
Mine Worker Lodge by Tim1000064
Old Rock Station by sparatuvs
Restaurant Walle by Wallen89
Tombstone Inn
Harle's Stable House by harlequinnqueen
The CrapShed by Xidos
The Biff Tannery by tinystarofparis
Kinver's Fancy Linens
"Kill These Horses Dead" Gamble house by florianizer
Yealow's Dinner and a Show
Dragriff's Barber shop
Rusty McKong's Food and Drink by KongFu and BlusterKong
Odd Fellow's Rest Graveyard by Ramblingdude
UberCritic Tavern
Bonefoot Origninal (gallows) by sparatuvs
State Marshall Liamari's house
Shooting gallery by Itswhywegame
Nickmaster's New-Fangled Place of Photography by nickmaster2007
Fort Mercer by Xidos
Old Rock Bath house by Zipothethird
The Late Brave Bonefoot upon his steed Glitternose by tinystarofparis
Old western Camp Fire (with pool)
Old Rock Bakery by Dragriff
McBain's house from Once Upon a Time in the West by Bonefoot
Barber by aqws3
Harequinns Sorrowful Funeral home by harlequinnqueen
Gunsmith & Metalworking by RetroMike
Outhouse
Gold Rush River OF GOOOOOOOOLD by MadSpaceCow
Mr_Squibbles Courthouse
American flag by MrChrisMad
Tokivon's "DRUGS"tore (opium den)
Obeth Marsh Shop of Questinobel Goods
Old Rock Orphange by DaftBot
Lumber Mill
Relkin's Wagon
Dane Jerrus's Abandoned House
The Old Rock Town Inn by Bruneo
Old Mission Church by SageSaga
SopTheTurtle's Mexican Sand Style Bar
Old Bastard Ranch by Driwer
Sparatuvs Music & TNT shop
General Goods Store by nhd09
Beldin's Booze & Brothel
Cactus Wine Saloon by caffeineadvocate
Tools
Bandito Mines
Moonshine distillery by trivialtom
A pointless jail
Town hall from Back to the Future Part III
Toxicninja Bounty hunters office
Telegraph Shack
Jim West's Leather Boot Store
Old Rock Ranger station 1 by Sparatuvs (Modified by Vordex)
Old West Library Lounge by Dave Gower
Water Tower by Toxicninja and WardTimmermans
Joke graveyard
Telegraph Office by BGCorporation, Ramza and Vordox
Old Rock Doctor's Office
Old Rock Church
Toty Brown's Blacksmith
Drunken's Old west Watering hole
Unfinished Oil Well from There Will Be Blood by aughts
Bandit Hideaway
Community content is available under
CC-BY-SA
unless otherwise noted.