Merme87 (simply known as Merme) is a member of the Minecraft Awesome community. She is one of the more notable members of The Edge community.
Like her Minecraft husband Segwo, she is one of the most beloved members of The Edge. While Segwo was mayor of The Edge, she served as First Lady.
Merme87 shows tremendous kindness to other users, and is always willing to help others with material donations and building help. Merme has a fondness of mermaids, this is apparent in her user name, skin choices, and creations in Minecraft.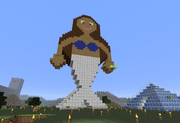 Within Edge, Merme87 has built a gigantic mermaid which contains 500+ iron blocks in the tail. She has also made two of the most impressive sprites in The Edge, both revolving around a mermaid.
Merme was part of the build team that created Cloudsdale for the Sky build challenge. This build itself was led by Sailor_MoonXD, one of Merme's closest friends on the server. The build was really well received on the show. Merme87 also helped again with Aquatic Center and the Survival arena for the Minecraft Awesome Olympics. 
In regards to the Minecraft Awesome Olympics themselves, Merme won the most diamond medals in the whole event, three in total. She won gold medals in Relay, Climbingand Basketball. Everyone in Edge values her victories in the Olympics and she has a memorial fountain in the Olympic Museum, which is located in The Edge.
Merme, as stated before, is Minecraft married to Segwo, and they had wonderful non-explosive wedding in the edge on May 20, 2012. The event was filmed by EnterMEUN and can be seen here: http://www.youtube.com/watch?v=p5zOARnSU1c
Community content is available under
CC-BY-SA
unless otherwise noted.