Lana Fundamentalis

Lana Fundamentalis

Status

Open

Established

Leaders

Location

Portal

Theme

Members

Forum Thread
Lana Fundamentalis is a Minecraft community. It can be easily reached from Stickyport.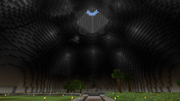 Community landmarks include:
- Community Central Fountain with its Foundational Wool, hence "Lana Fundamentalis", that was the first block we placed at -1000, 1000, 64.
- Underground Dome, located right under the Central Fountain. It contains an NPC village,
- Giant Sphere, 64 blocks tall, completely hollow, wich contains a "central sun" inspired in the "Hollow Earth" theories, wich also contains the corresponding Intercommunity Railway Station communicating New Sprite City, Mushie Village and Tortuga to the west and Stickyport and beyond to the east.
- Community Warehouse: complete with several floors full of items and blocks neatly arranged in there respective chests.
- Community Library: a place to cast enchantments, separated by bookshelves, according to the level of experience you have.
Community content is available under
CC-BY-SA
unless otherwise noted.