JakeTheEpicMan (Jake E. Man) is a co-worker and helper of the community known as "The Island".  He adds the epic to the server, working on his free time to make the community look and feel better.
The Early Years (before Minecraft)
Edit
Jake used to be a proud fan of the members of FFStv, even before VGA times.  He would watch each episode, one by one, waiting for the next to come.  He would then start to attend live shows as part of the dark chat.  He then saw something that would change his life around.  The played Minecraft almost every month!  He joined the Turbo Club in the Summer of 2013.
Minecraftin'
Edit
On the last days of 2013, Jake decided to join the infamous "Minecraft Awesome" Server.  He was trained by Omega_Dragoon and yo4you, helping them out with the 2014 New Year's Fireworks.  He would now start to become addicted to Minecraft and without asking, he would foolishly build a house in Westridge.
The Island
Edit
Soon after building his house, he decided to go mining.  The only problem was that he was just starting out on his own, alone... so he asked if he could borrow a mine for 30 minutes.  A kind, willing person named Mokumtokum took me in under his wing and let me mined at his island.  After a few mining trips, he started to become friends with Mokumtokum and the citizens of The Island like QuaziJoe and... again, Omega_Dragoon! 
Soon after becoming friends with the community, he had to destroy his Westridge because of personal rule-breaking (property).  So, he decided to build a room to stay at The Island's famous cave dining room area and hallway.  To this day, he helps out on different builds of his new homeland with no pay or gift.  Just happiness!
One Man, One Server
Edit
JakeTheEpicMan is also the official owner and mayor of his own Single-Player World, "Jakeland".
The town includes amateur builds including a movie theater, bowling area, hockey area, concert stadium, and of course, his 6-story house!  The town also respects the Minecraft Olympics of 2012/2014 by putting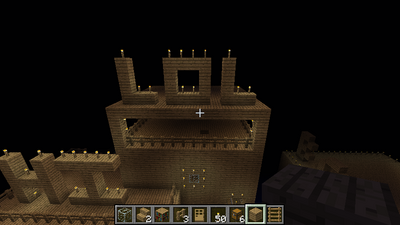 up almost all the nation flags.
Community content is available under
CC-BY-SA
unless otherwise noted.